Spray Foam Insulation Woodbridge Va
Our goal is to use our immense experience and knowledge to deliver top class spray foam insulation services for your residential, commercial, and industrial needs.
Comprehensive spray Foam Insulation Services
In addition to providing superior insulation services, our company is committed to being environmentally conscious. We use eco-friendly spray foam insulation products that do not negatively impact the planet. Our insulation also helps to reduce carbon emissions, as it increases the energy efficiency of your home or business, leading to less reliance on fossil fuels.
Furthermore, we prioritize safety in all of our insulation projects. Our team follows all necessary safety protocols and guidelines to ensure that the installation process is smooth and hazard-free. We also offer ongoing support and maintenance for our insulation, so you can feel confident that your home or business is properly insulated for the long-term. Thank you for trusting us to handle your insulation needs.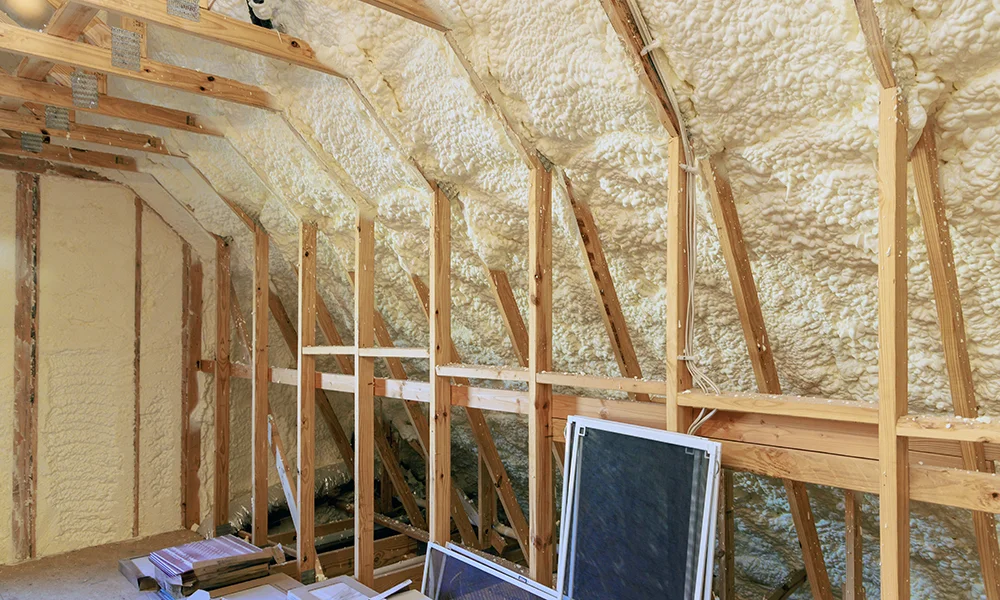 Services
We offer our service for various types of buildings and structures.
Commercial
We provide complete energy performance solution in any commercial design. Guaranteed to provide cost effective, efficient insulation to insulate interior cavities with flexible design.
Residential
Make your home feel more comfortable. Spray foam insulation allows your home heating and cooling units to work more efficiently. Get a reduction power costs as much at 35% without losing efficiency and comfort.
Agriculture
Saving agricultural business and operators for decades. Spray foam insulation protect your crops from damage, maintaining a sufficiently insulated building for your livestocks with less use of energy and fuel.
Garage Ceiling Insulation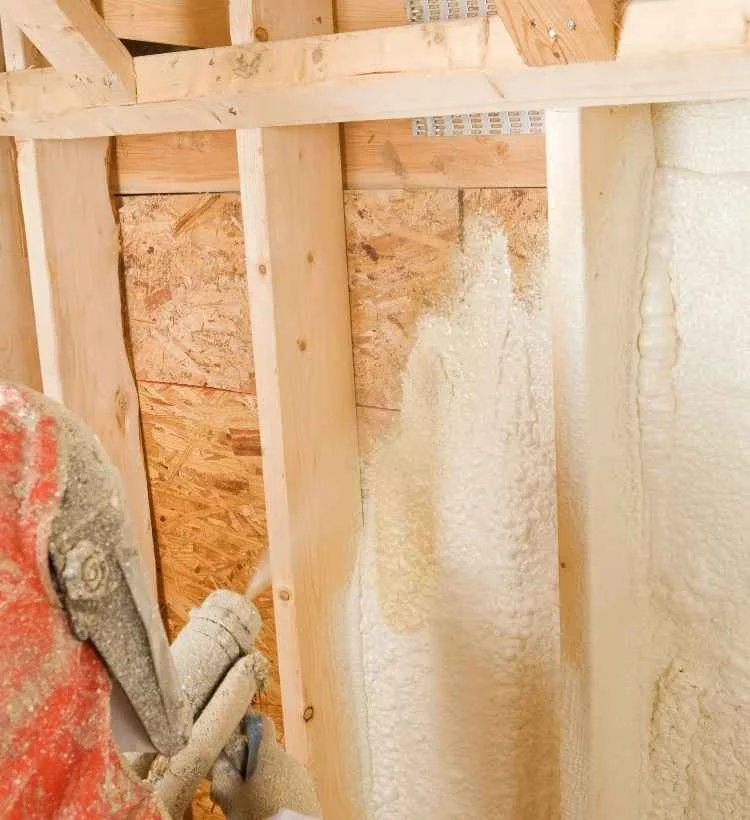 We know all the right areas to look for
A great way of knowing if you're dealing with the right insulation company is their knowledge of which parts of your home or business need insulation. While this might not be a guarantee of excellent services, it shows that your contractor is more likely to know where to inspect and the best techniques to use. At DMV Foam, we're well-versed in all the spray foam applications and know the right areas to focus on for your long-term comfort.
Our first inspection area for insulation is floor joists, as they are the primary point of insulation for their role as air and moisture barriers. However, ground joists are not the only area we look for. We also ensure that your crawl space blocks any air and moisture leakages. This is an area where spray foam insulation fairs much better than glass fiber and plastic insulations, simply because the two are ineffective during cold seasons due to the wetness that accompanies the period. Our spray foam services will seal all the entrances that bugs use to get in, lock in the warmth, and stop air and moisture movement.
Attic Insulation Woodbridge VA
At DMV Foam, we ask all the right questions so that we can exceed your expectations. Before we come to your location, we first ask one important question, "what is needed?" This question guides us to provide the right quality of material for your insulation needs and develop the best techniques for the work. The second question we ask is, "when is it needed by?" We're not one of the companies that book an appointment and fail to show up. Our team of experts reports on time and works swiftly to ensure your work is done in good time.
The third question we ask is, "how much is needed?" You want an insulation company in Woodbridge that really knows what they're doing. This starts from the quantity of material needed, the number of experts needed for proper execution, and the amount of time needed for them. Here at DMV Foam, we provide the full package by answering all three questions. Our attic insulation experts in Gaithersburg and Germantown have a combined experience of more than 16 years and, over the years, have perfected the different tips and tricks required to produce the perfect job.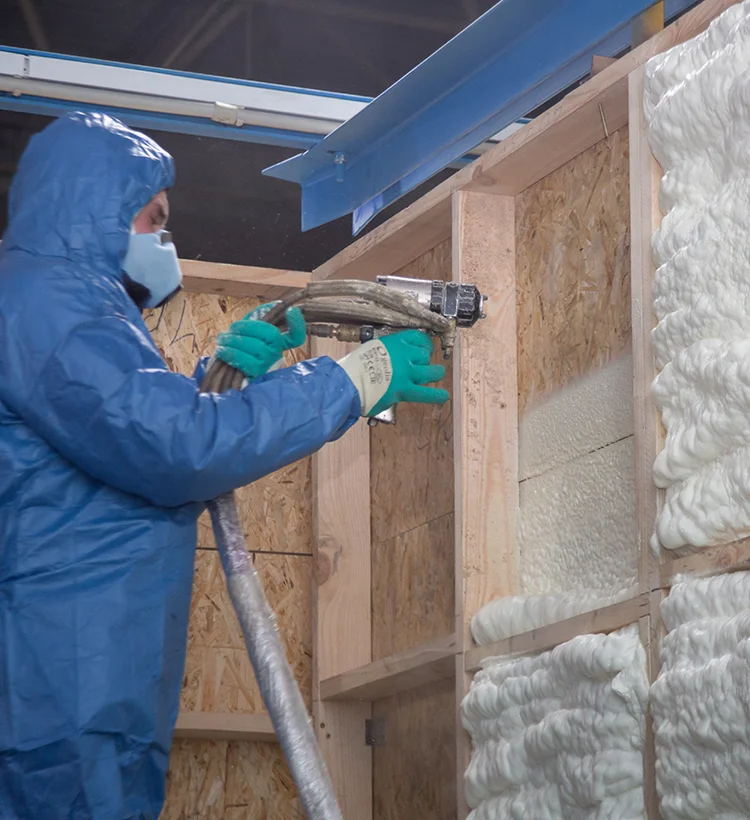 Integrity and use of quality material
This census-designated area of Prince William County is one of the best places to live in Virginia. One thing about the area is that most residents own their homes. And with home ownership comes the responsibility to ensure that your home is well insulated against air and moisture leakages. After all, the US Department of Energy reports that this air leakage causes about 40% of energy losses. At DMV Foam, we understand how frustrating such costs can be, so we do everything right for you, from using quality insulation material and reporting on time to ensuring we finish the work on time.
What other insulation contractors fail to tell clients is that using old and wrong insulation material is just as harmful as poor installations. This is because the material leads to early deterioration and wearing away of insulation, significantly reducing its lifespan. At DMV Foam, our integrity guides our operations. We understand that foam has a six-month shelf life unopened and only three months opened. Therefore, we don't use expired foam as the material starts to degrade and break down as some of the chemicals inside react. This customer-first approach and our dedication to providing quality services are the secrets to our good reputation and fast growth.
The team came out to provide us free estimate for an attic insulation. He was very nice and accommodated all our queries and discussed all our options. We were very impressed with their service. Great company to work with fair price and quality work. Thanks DMV team!
Hadwin Flowers
I was searching for home insulation contract near me and found them. DMV are the experts in the foam insulation industry. They make sure you have what is best for each project and guarantee a long-term value. We highly recommend their service.
Harley Geise
Thanks for the great service! They offered us a reasonable price and financing options. The job was done quicker than the scheduled time. We are very pleased with the service! We will definitely refer them to our friends and family!
Travis Collins
They were very responsive and very professional! These guys handled the job quickly. They assessed and provided solution cost less than our budget. Absolutely the highest quality insulator in DC!
Troy Sarratt
Worth it without a doubt! Pleased with their work, offered us cost-effective price. DMV is the highest quality insulator we have ever worked with. The whole experience with them was perfect from start to finish.
Barbara Stephens
We've been getting charged unusually high electric bills and decided to contact a foam insulation company to help us with our problems. Best decision ever! They did an absolutely amazing job! Our home is now energy efficient, and comfortable. Will recommend DMV to anyone who needs insulation service.
Pansy Crawford