Insulation Contractor Potomac Md
Our mission is to promote the use of spray foam insulation as an effective and efficient way of improving energy efficiency while providing a comfortable environment for customer satisfaction.
The Best Spray Foam Insulation Company
When it comes to spray foam insulation, you have to get it right the first time. Therefore, it's no wonder people spend a lot of time trying to find the right insulation services near them. And since you're here, we take our time to explain why we are the best spray foam insulation contractor in Potomac, MD. There are a few key things to consider when looking for a company that offers the best spray foam insulation services and at the top of the list is experience. We have been running the show for over 16 years, and our installers know every possible challenge and how to overcome them. Additionally, our longevity speaks to a track record of successful projects.
Secondly, we have all the right certifications to handle your installation project. Why is that important? A company that is certified by the Spray Polyurethane Foam Alliance (SPFA) or other professional organizations is likely to have trained and skilled technicians. Lastly, our stellar reputation in the industry is a testament to our good work and excellent customer service. This is also evident in the many positive reviews from our clients that have motivated us to seek even greater heights in our work. So give us a call, and we will work with you to determine the right amount of insulation for your specific needs and provide you with a detailed estimate and timeline for the installation process.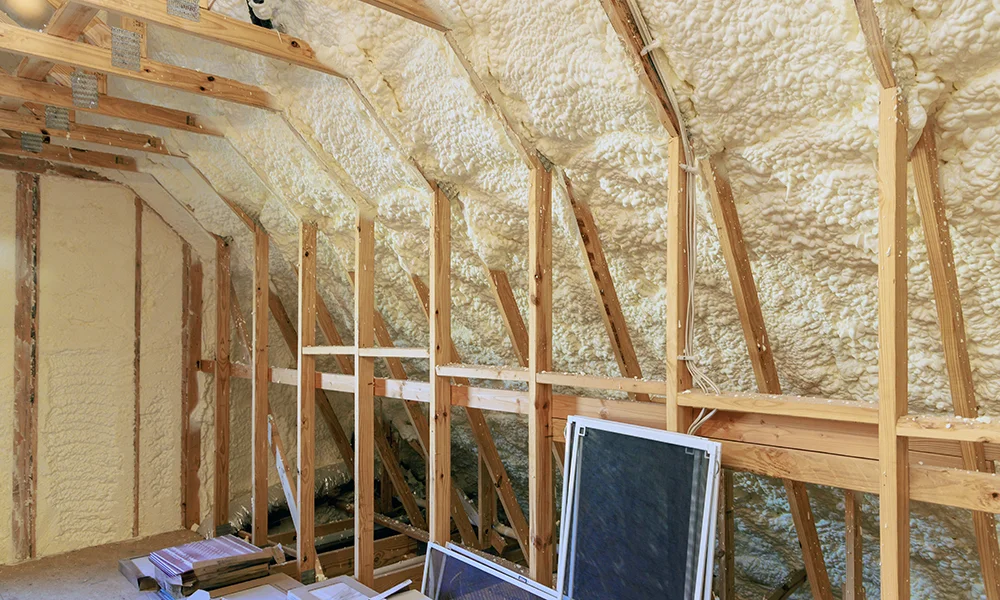 Services
We offer our service for various types of buildings and structures.
Commercial
We provide complete energy performance solution in any commercial design. Guaranteed to provide cost effective, efficient insulation to insulate interior cavities with flexible design.
Residential
Make your home feel more comfortable. Spray foam insulation allows your home heating and cooling units to work more efficiently. Get a reduction power costs as much at 35% without losing efficiency and comfort.
Agriculture
Saving agricultural business and operators for decades. Spray foam insulation protect your crops from damage, maintaining a sufficiently insulated building for your livestocks with less use of energy and fuel.
Garage Ceiling Insulation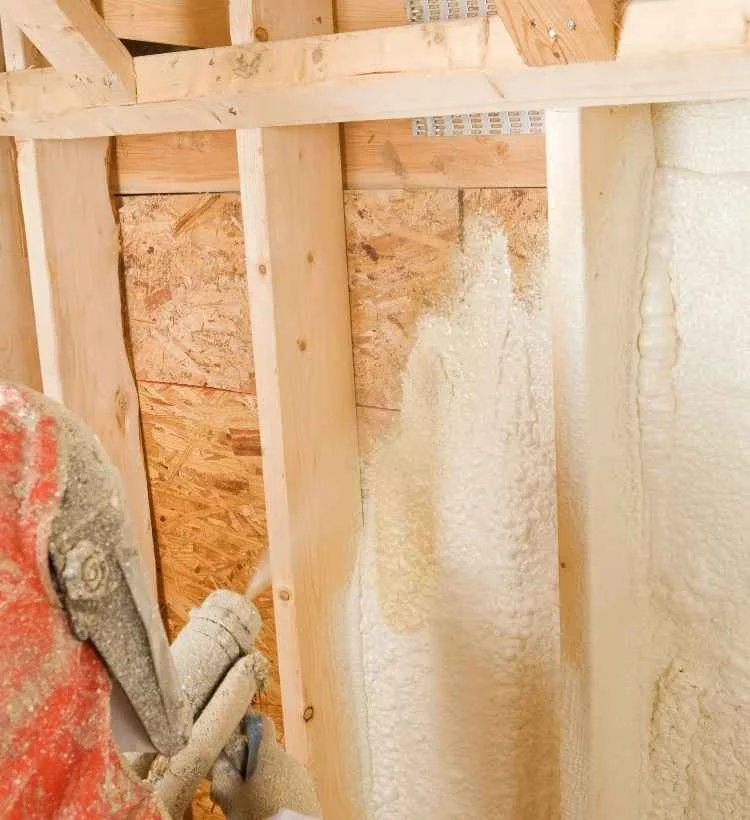 Crawl Space & Attic Insulation Potomac MD
At DMV Foam, we pay close attention to all your insulation questions and concerns. Some common questions we receive include: Is spray foam as effective as traditional insulation? What are the potential drawbacks of using spray foam? And, which is the Attic Insulation in Potomac, MD? We are here to provide reliable and accurate information to help you make informed decisions about your insulation needs. To help clarify the first question, we can confidently say that spray foam insulation is highly effective at sealing buildings and has numerous benefits compared to traditional insulation materials. Regarding the potential problems that arise from the material's installation, or how long it might last, it all depends on the quality of work the contractor delivers. If the work is good, then you're set for a long time.
However, don't let anyone discourage you from adopting spray foam insulation because of the installation cost. The cost pays itself with time and soon after installation, you will start reaping the benefits of reduced energy bills. Another caution to keep in mind is that if you are considering using spray foam insulation in your home, it is important to do your research and find a trusted company in your area. At DMV Foam, we are proud to be a leading spray foam insulation company serving clients in Arlington and Woodbridge and the surrounding areas. We have a long track record of success and are committed to providing our clients with high-quality insulation solutions that meet their unique needs. So, if you are searching for "spray foam insulation companies near me," we encourage you to consider DMV Foam.
Higher Comfort, Lower Bills with DMV Foam Spray Solutions
When choosing a spray foam insulation company, it's important to ensure that the contractors you hire are licensed and insured, especially if your state does not require licensing. At DMV Foam, we have seen the problems that can arise from working with unlicensed contractors. That's why we only recommend that you hire experienced professionals who take pride in their work. Our spray foam insulation is highly effective at reducing air leakage and improving a building's thermal performance. It can also help regulate indoor temperatures, ensuring a consistent and comfortable environment year-round.
In addition to providing comfort, our spray foam insulation also helps save energy and reduce your carbon footprint. Its ability to prevent heat loss allows heating and cooling systems to work more efficiently, resulting in lower energy bills. We offer a wide range of services, including insulation for walls, attics, crawl spaces, and more. If you're wondering why you should choose DMV Foam for your insulation needs, the answer is simple. We have the experience, equipment, and expertise to overcome challenges and deliver a high-quality, durable solution. Contact us today to learn more about how we can help you create a more comfortable and energy-efficient home or commercial building.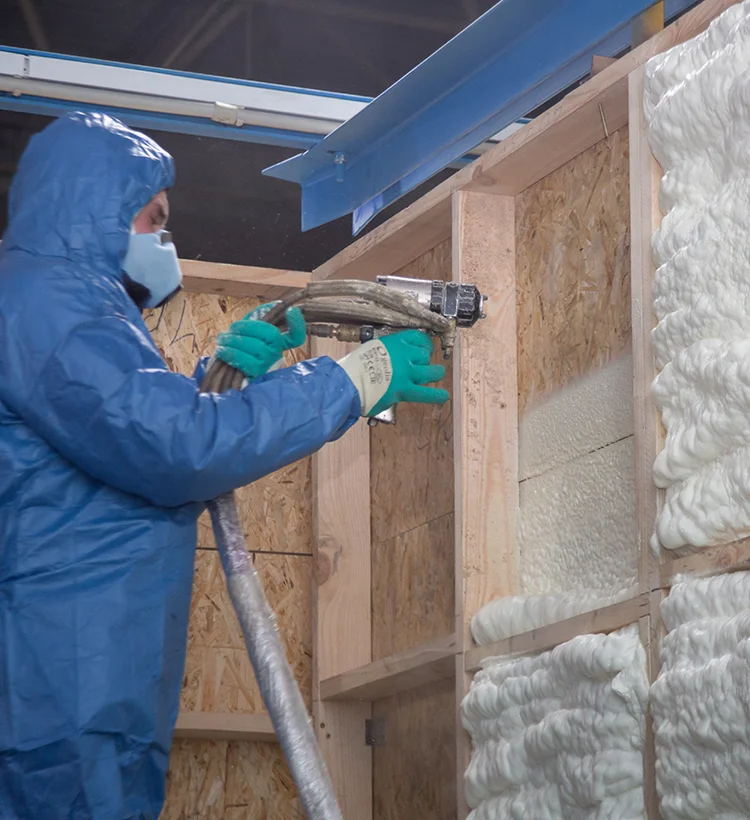 Reliable Potomac Spray Foam Professionals
A unique aspect of Potomac, MD is the high property values in the area. Homeowners and business people here often have a strong desire to maintain and improve their properties, and investing in energy-efficient insulation is a smart way to do so. Worry not, in DMV Foam, you have one of the most trusted spray foam insulation dealers in Maryland and its environs. It is a reputation we have forged from many years of ensuring our clients are fully satisfied with our work in the sector. We aspire to create a future in which energy efficiency is improved by using spray foam insulation in buildings to reduce utility costs and provide comfortable temperature regulation.
We have many success stories working for our clients in Maryland. One of the reasons for our success is that we understand that each property has its own unique needs, so no two projects will ever be the same. Therefore, our process starts with a consultation with our clients so as to find out the best way to meet their expectations. While this might seem like a formality to others, it is a crucial step that not only prepares us for the job but also gives the client an opportunity to be part of the project. This meeting of the minds ensures that we execute with accuracy and produce exceptional results.
The team came out to provide us free estimate for an attic insulation. He was very nice and accommodated all our queries and discussed all our options. We were very impressed with their service. Great company to work with fair price and quality work. Thanks DMV team!
Hadwin Flowers
I was searching for home insulation contract near me and found them. DMV are the experts in the foam insulation industry. They make sure you have what is best for each project and guarantee a long-term value. We highly recommend their service.
Harley Geise
Thanks for the great service! They offered us a reasonable price and financing options. The job was done quicker than the scheduled time. We are very pleased with the service! We will definitely refer them to our friends and family!
Travis Collins
We've been getting charged unusually high electric bills and decided to contact a foam insulation company to help us with our problems. Best decision ever! They did an absolutely amazing job! Our home is now energy efficient, and comfortable. Will recommend DMV to anyone who needs insulation service.
Pansy Crawford