Insulation Contractor Arlington Va
We distinguish ourselves from other insulation contractors in by providing excellent and cost-effective solutions. Given our experience in dealing with different scenarios, our experts are sharp-witted and capable of devising solutions to resolve issues.
Choosing DMV for Spray Foam Insulation?
There are many spray foam insulation companies in Arlington but none like DMV Foam. We are a full-service spray foam insulation contractor in Arlington since 2005. We strive to help you reduce your energy bills and create a comfortable environment for you and your family irrespective of the weather conditions outside. Using state-of-the-art technology, top-rated products, and best practices, we help you with all your insulation needs wherever you are in Arlington.
Each of our insulation professionals and experts has been hand-picked, thoroughly trained, and has the experience to give you excellent results. Our dedication to informing you about the newest high-performance insulation products is unmatched. Trust us to help you find the ideal, energy-efficient insulation choice while staying within your budget. We have years of experience guiding our clients from consultation to installation, and your satisfaction is our utmost priority.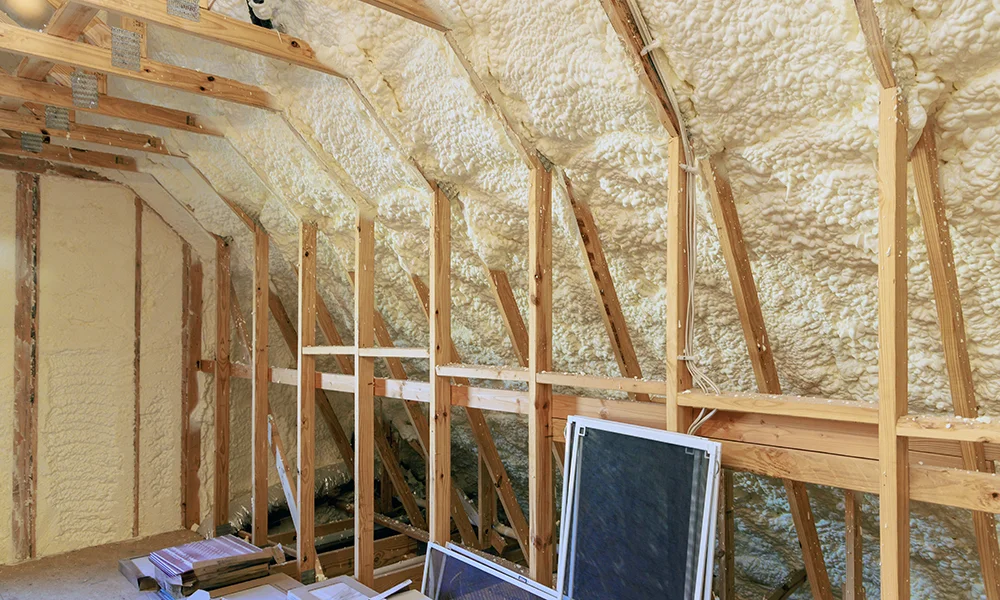 Services
We offer our service for various types of buildings and structures.
Commercial
We provide complete energy performance solution in any commercial design. Guaranteed to provide cost effective, efficient insulation to insulate interior cavities with flexible design.
Residential
Make your home feel more comfortable. Spray foam insulation allows your home heating and cooling units to work more efficiently. Get a reduction power costs as much at 35% without losing efficiency and comfort.
Agriculture
Saving agricultural business and operators for decades. Spray foam insulation protect your crops from damage, maintaining a sufficiently insulated building for your livestocks with less use of energy and fuel.
Garage Ceiling Insulation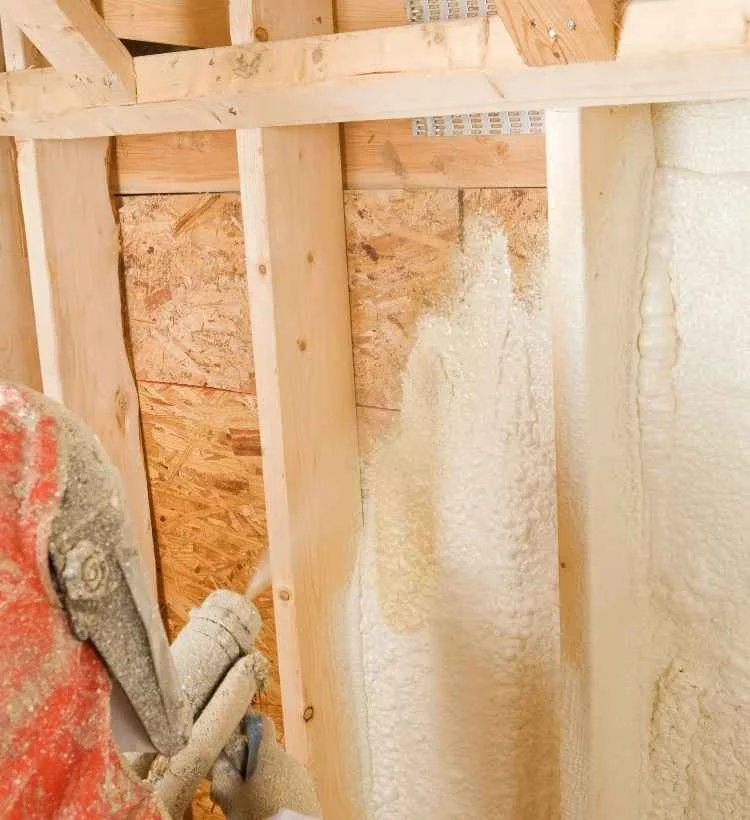 Crawl Space or Attic insulation Expert Arlington VA
There is nothing more precious than you and your family and consequently the home that protects and shelters you as well. It's where you make memories and the place that provides you with an identity and a sense of belonging. However, sometimes the cost of maintaining a home can get expensive. For instance, you can find yourself spending a lot on heating and cooling bills in your Arlington Home. With investments like Attic Insulation Arlington Va can save you a lot of money.
In Arlington for instance, summers are warm and muggy, winters are very cold and snowy and the temperature throughout the year ranges from 28 O F to 87 0 F. Without proper insulation, your home will lose heat during winter and cool air during summer. At DMV Foam we provide commercial, residential, and agricultural spray foam insulation in Arlington and the surrounding areas including Falls Church, Bethesda, Springfield, and Washington DC.
The best Spray Foam solutions for your Home
Poor air quality and increased heating and cooling bills are signs of insufficient insulation in your home. Attics, basements, garages, floors, wall cavities, and other components in your building can let air sip in and out. Spray Foam can help a great deal and when applied properly it can provide excellent thermal insulation and an airtight seal because it has a higher R-Value. It can be used to insulate a new home or added in place of existing insulation.
It is applied as a liquid and expands to fill any gaps and voids thus providing exceptional thermal performance and an effective air barrier. It quickly expands 30-60 times more than the original volume. It adheres tightly to surfaces like wood, pipes, electric cables, plywood, etc. Spray Foam is made from polyurethane foam, the same material used in soft products like mattresses and couches.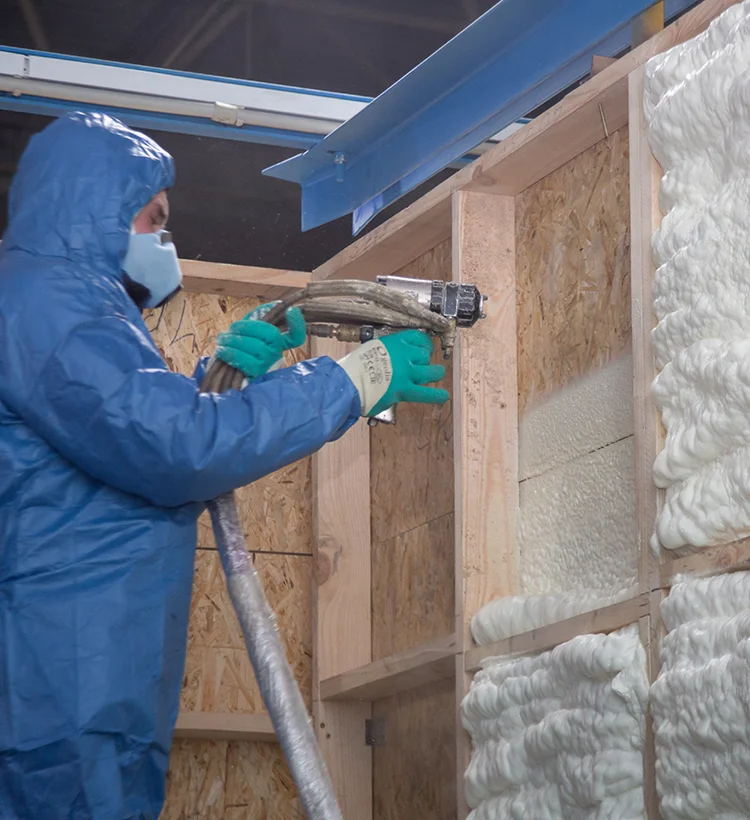 Professional Insulation Company in Arlington Va
There are two types of spray foam insulation: closed cell and open cell insulation. Open cell insulation in Arlington is cheaper than the denser closed cell. The Spray Foam Insulation Cost in Arlington ranges from $1400 up to $20000. Open cell costs $0.70 to $1.10 per board foot and closed cell cost ranges from $1.20 to $1.80 per board foot. Both closed and open cell insulation is effective, and DMV is here for all your residential, commercial, and agricultural insulation needs.
The Arlington, Virginia area is known to have cold spells now and then and hot summers and you do not want to be caught off-guard. Our trained technicians will insulate your home without burning a hole in your pocket. We love challenging projects as it brings the best out of our team and helps improve our skills and expertise. We are proud to offer free estimates, so if you need insulation services, give us a call today! We look forward to working with you.
The team came out to provide us free estimate for an attic insulation. He was very nice and accommodated all our queries and discussed all our options. We were very impressed with their service. Great company to work with fair price and quality work. Thanks DMV team!
Hadwin Flowers
I was searching for home insulation contract near me and found them. DMV are the experts in the foam insulation industry. They make sure you have what is best for each project and guarantee a long-term value. We highly recommend their service.
Harley Geise
Thanks for the great service! They offered us a reasonable price and financing options. The job was done quicker than the scheduled time. We are very pleased with the service! We will definitely refer them to our friends and family!
Travis Collins
They were very responsive and very professional! These guys handled the job quickly. They assessed and provided solution cost less than our budget. Absolutely the highest quality insulator in DC!
Troy Sarratt
Worth it without a doubt! Pleased with their work, offered us cost-effective price. DMV is the highest quality insulator we have ever worked with. The whole experience with them was perfect from start to finish.
Barbara Stephens
We've been getting charged unusually high electric bills and decided to contact a foam insulation company to help us with our problems. Best decision ever! They did an absolutely amazing job! Our home is now energy efficient, and comfortable. Will recommend DMV to anyone who needs insulation service.
Pansy Crawford