Insulation Contractor Manassas Va
Our goal is to help homeowners and businesses in the Virginia area save energy, improve indoor comfort, and reduce the environmental impact of insulation through the use of energy-efficient insulation.
Spray Foam Insulation Process
Our spray foam insulation in Manassas Va involves careful planning, attention to detail, and the use of specialized equipment and materials. We emphasize on following every step of the process because they are the pathway to a successful insulation job. Our first step is preparation. Before starting the foam insulation process, we first prepare the area by covering floors and other surfaces to protect them from overspray. We also remove any existing insulation or other materials that may be in the way. This ensures that the foam insulation is applied smoothly and effectively, resulting in optimal energy efficiency and cost savings.
Next, we assess the building to determine the best plan for applying the foam insulation. This may include measuring the size of the area to be insulated, identifying any potential problem areas, and determining the type and amount of foam needed. After our assessment, we get to the application part. We set up the spray foam equipment and start applying the foam insulation to the walls or other surfaces. The foam is typically applied using a spray gun and is applied in layers until the desired thickness is reached. Our finishing includes smoothing out any rough areas and ensuring that the surface is even. This is followed by a thorough clean-up of removing debris or overspray and ensuring the site is left clean and safe.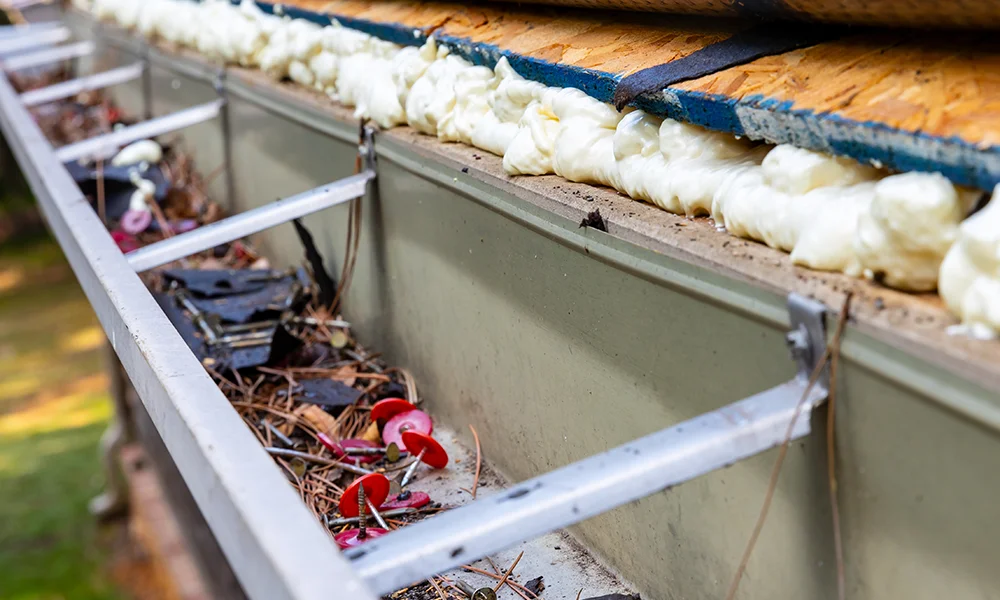 Services
We offer our service for various types of buildings and structures.
Commercial
We provide complete energy performance solution in any commercial design. Guaranteed to provide cost effective, efficient insulation to insulate interior cavities with flexible design.
Residential
Make your home feel more comfortable. Spray foam insulation allows your home heating and cooling units to work more efficiently. Get a reduction power costs as much at 35% without losing efficiency and comfort.
Agriculture
Saving agricultural business and operators for decades. Spray foam insulation protect your crops from damage, maintaining a sufficiently insulated building for your livestocks with less use of energy and fuel.
Garage Ceiling Insulation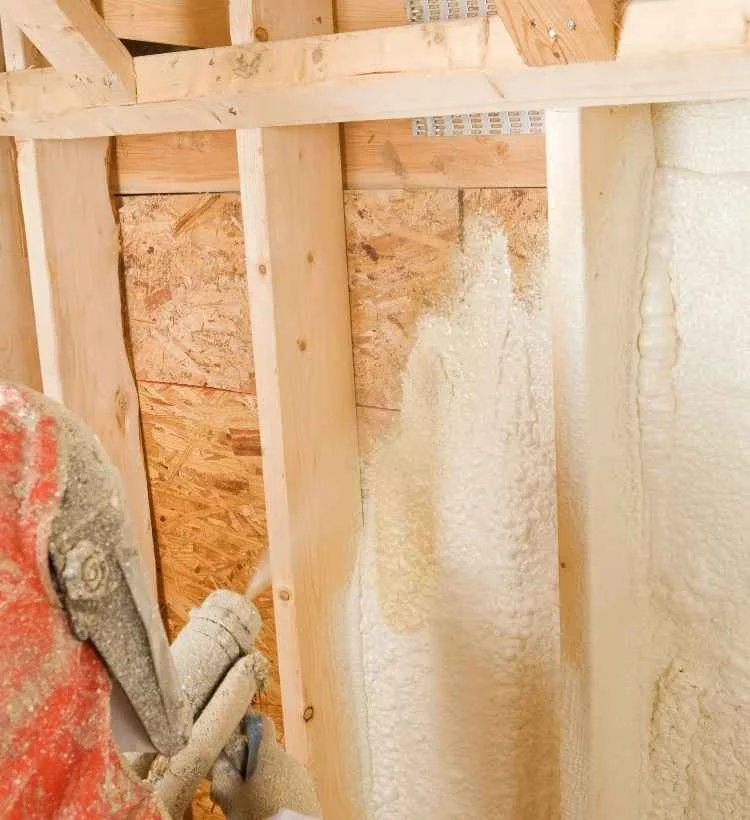 Better technology for insulation Results
There are various types of technology that can be used to improve the efficiency, accuracy, and safety of spray foam application. Here at DMV Foam, we embrace the best of them. This has been the distinguishing factor for us, and it is the reason why we stand above others in the industry. Some of the technology we use include advanced spray foam guns, allowing for more precise adjustments to be made while applying the foam. The guns have features such as temperature control and pressure monitoring, both of which are critical in successful foam application.
In keeping with the environmental conservation trends, we like to keep all our activities eco-friendly. For one, our spray foam products have low volatile organic compound (VOC) emissions, reducing health risks. It also ensures that the smell after the insulation process doesn't take ages to clear. Secondly, we properly ventilate the work area. This helps minimize the exposure to any potentially harmful fumes. Secondly, we ensure all the excess foam or packaging materials are correctly handled and disposed of to reduce the environmental impact of the insulation process. This is some of the insight into the makings of our exceptional services.
Advanced Spray Foam Solutions
At DMV Foam, our use of better technology in the application of Insulation in Manassas Va brings a range of benefits to both our clients and ourselves. Top of the list is improved efficiency during the working period, which reduces the time and labor required to complete a job. It also means we get to have faster turnaround times for clients so that we can address new appointments. Another key advantage you get with our services is enhanced accuracy. We're not your usual insulation company; we have set a high bar that dictates that our experts more evenly distribute the foam in our projects.
However, that's not all, our advanced technology also provides greater control over the spray foam application process, allowing for more precise adjustments to be made in real-time. Additionally, we get to enjoy increased safety due to the control. Our high safety standards not only protect our installers, but also ensure that the foam is installed according to regulations and in a way that will not harm the owners or occupants of the building. It is worth noting that the specific benefits of using our improved technology in foam application depend on the needs of our clients and the circumstances of a project and that too anywhere in Ashburn or Leesburg.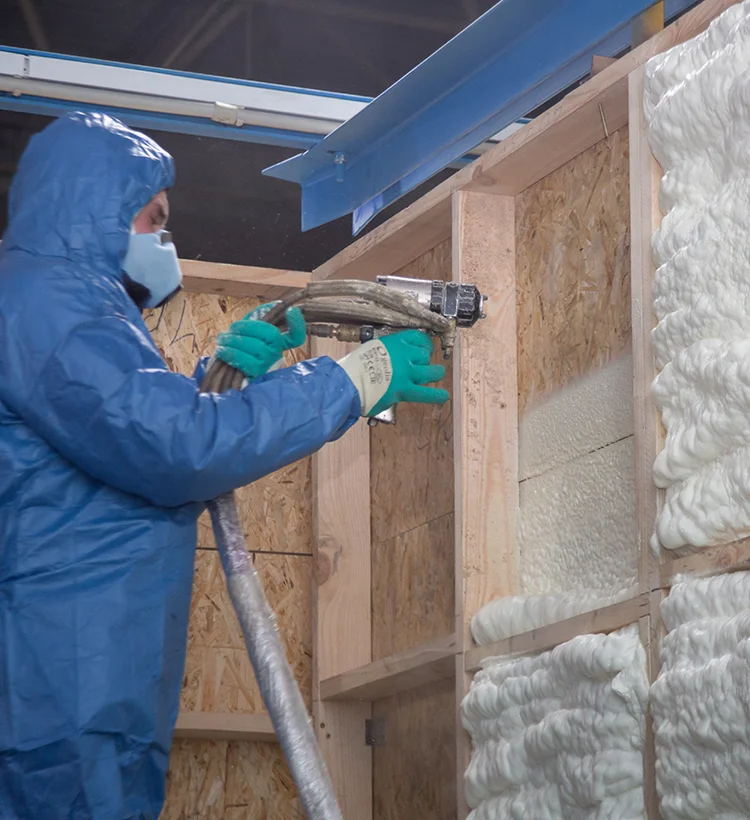 Crawl Space & Attic Insulation Manassas Va
Manassas, VA has a rich history and natural beauty, making it a great destination for history buffs, outdoor enthusiasts, and anyone ready to explore and appreciate the beauty of Virginia. In this area, Attic Insulation Manassas is a popular choice for residential and commercial properties because it is an effective way to seal and insulate buildings. At DMV Foam, we ensure residents get effective services that keep their homes and businesses energy efficient and comfortable all year round. One advantage you get with our foam insulation is that it reaches all areas, even those that may seem inaccessible. We insulate attics, walls, and crawl spaces to create a seamless and airtight barrier that keeps hot or cold air out and conditioned air in.
Another benefit we offer to the residents of Manassas is insulation services that help reduce noise pollution. If you're wondering why that's so, it's because the foam reduces the amount of sound that can pass through the wall or ceiling and into the interior of a building. Overall, our goal is to offer our clients superb services that improve indoor air quality by sealing off potential entry points for pollutants and pests. We handle both residential and commercial projects, and we have experienced and well-trained installers with the skills to produce exceptional results. So get in touch with us, and we promise to meet all your insulation needs!
The team came out to provide us free estimate for an attic insulation. He was very nice and accommodated all our queries and discussed all our options. We were very impressed with their service. Great company to work with fair price and quality work. Thanks DMV team!
Hadwin Flowers
I was searching for home insulation contract near me and found them. DMV are the experts in the foam insulation industry. They make sure you have what is best for each project and guarantee a long-term value. We highly recommend their service.
Harley Geise
Thanks for the great service! They offered us a reasonable price and financing options. The job was done quicker than the scheduled time. We are very pleased with the service! We will definitely refer them to our friends and family!
Travis Collins
They were very responsive and very professional! These guys handled the job quickly. They assessed and provided solution cost less than our budget. Absolutely the highest quality insulator in DC!
Troy Sarratt
Worth it without a doubt! Pleased with their work, offered us cost-effective price. DMV is the highest quality insulator we have ever worked with. The whole experience with them was perfect from start to finish.
Barbara Stephens
We've been getting charged unusually high electric bills and decided to contact a foam insulation company to help us with our problems. Best decision ever! They did an absolutely amazing job! Our home is now energy efficient, and comfortable. Will recommend DMV to anyone who needs insulation service.
Pansy Crawford