Insulation Contractor Leesburg Va
Our mission is to provide reliable and safe foam installation services using top-of-the-line equipment, skilled technicians, and a strong commitment to safety, quality, and customer satisfaction.
Protect Your property with DMV Foam Insulation
At DMV Foam, we are proud to be known as the leading provider of spray foam insulation services in Leesburg, VA. We have been in the business for many years and have consistently worked to improve our services through ongoing training and learning from other professionals in the field. Our team has gained valuable experience and knowledge from interacting with different installers and has been able to apply this knowledge to provide the most effective and efficient solutions for our clients. When we visit your premises, you can be confident that we are bringing the best, proven, and tested methods for insulating your home or business.
While it's true that spray foam insulation services may initially seem more expensive compared to other types of insulation, the long-term benefits can make it worth the investment. Spray foam insulation is widely recognized as being more effective at providing insulation than fiberglass or cellulose, and it has the added advantage of lasting longer. At our company, we understand that every project is different, and that's why we take the time to carefully assess the specific needs of each client. Our costs vary based on the size of the area to be insulated, the type of spray foam used, and the complexity of the project. If you're interested in learning more about our services, we encourage you to book a free consultation with one of our experts.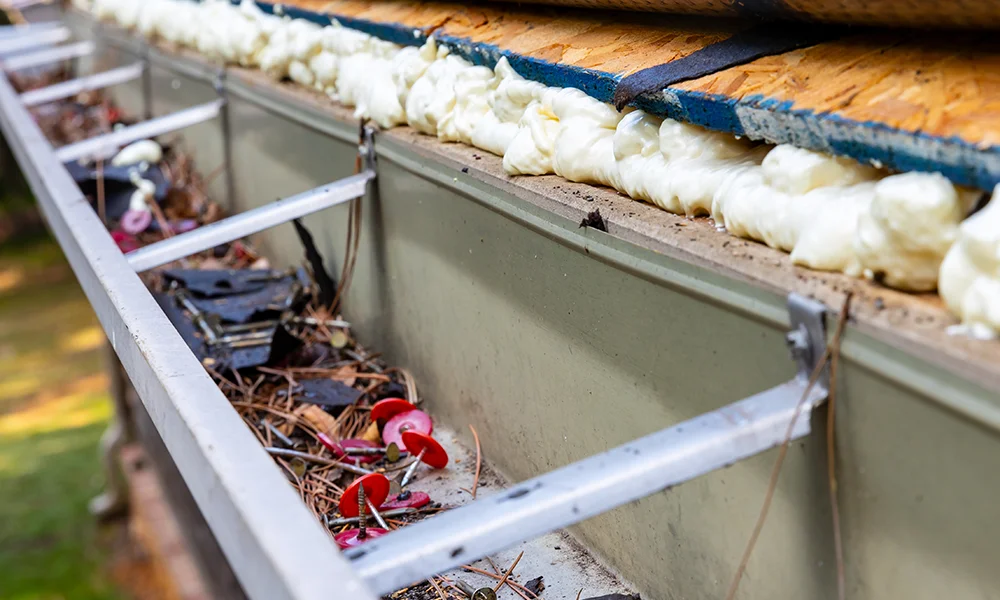 Services
We offer our service for various types of buildings and structures.
Commercial
We provide complete energy performance solution in any commercial design. Guaranteed to provide cost effective, efficient insulation to insulate interior cavities with flexible design.
Residential
Make your home feel more comfortable. Spray foam insulation allows your home heating and cooling units to work more efficiently. Get a reduction power costs as much at 35% without losing efficiency and comfort.
Agriculture
Saving agricultural business and operators for decades. Spray foam insulation protect your crops from damage, maintaining a sufficiently insulated building for your livestocks with less use of energy and fuel.
Garage Ceiling Insulation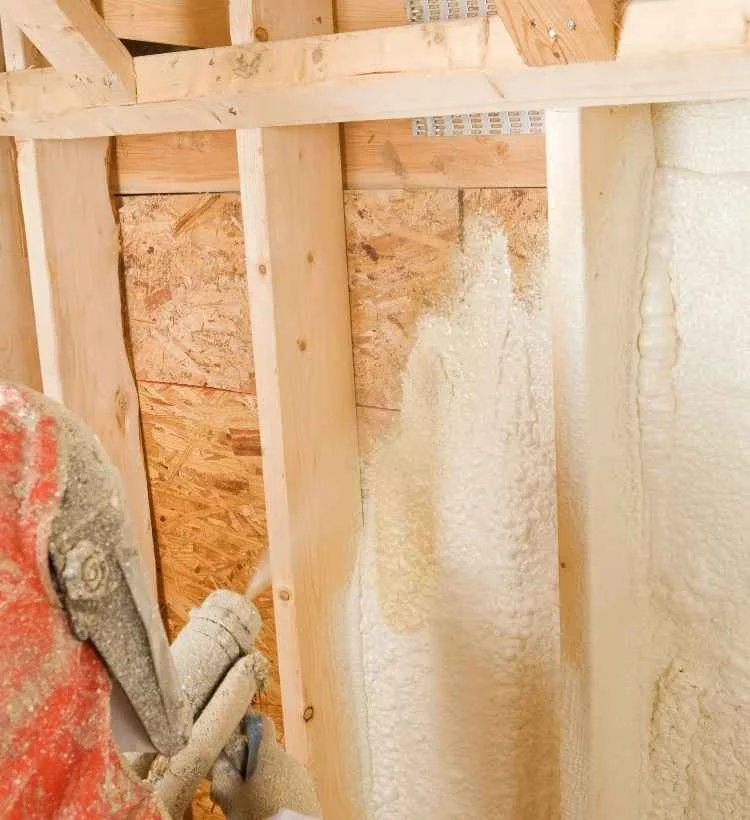 Crawl Space & Attic Insulation Leesburg Va
Exterior walls form the outermost layer of a building's structure and, therefore, are typically the first line of defense against the elements. As a result, these walls require additional protection to prevent the infiltration of air and moisture, which can lead to damage and deterioration over time. At DMV Foam, we ensure the buildings and walls we work on are in great condition to prevent the infiltration of air and moisture. One of the reasons we thrive in the trade is because of our commitment to providing excellent insulation services. Overall, our insulation services are designed to provide a reliable barrier against the elements, and enhance the structural strength of the exterior walls.
We have gained valuable experience in the insulation industry, which has equipped us with the knowledge and expertise to ensure that our projects are successful. We adhere to all relevant building codes and standards and use the appropriate type of insulation for each job. For exterior wall insulation, we use high density closed-cell foam, which offers superior strength and durability. Our commitment to providing high quality spray foam solutions has earned us a reputation as a trusted and respected company in the industry. If you are in need of attic insulation in Leesburg Va for your home or business, DMV Foam is an excellent choice.
Why Hire Professional Contactor
While some people may be tempted to try to install spray foam insulation on their own, there are several advantages to choosing professional services like those offered by DMV Foam. For one, we provide quality and expertise. Our professionals have the training and experience to properly assess the insulation needs of a building and to apply the spray foam insulation in a way that will be effective. They can also provide guidance on the best type of spray foam to use and can help ensure that the insulation is applied evenly and without gaps. On top of that, they are committed to providing results that meet the highest standards.
Secondly, you get safety. Spray foam insulation involves using chemicals and high-pressure equipment, which can be dangerous if not handled properly. At DMV Foam, we have the necessary safety equipment and training to handle these materials and to ensure that the installation process is safe. Lastly, we save your time. Installing spray foam insulation can be time-consuming, especially for those who are not experienced in the process. Professional contractors can typically complete the job more quickly and efficiently, allowing homeowners to get back to their daily routines. Overall, choosing professional spray foam insulation services can provide peace of mind, ensure that the job is done safely and properly, and help save time and hassle.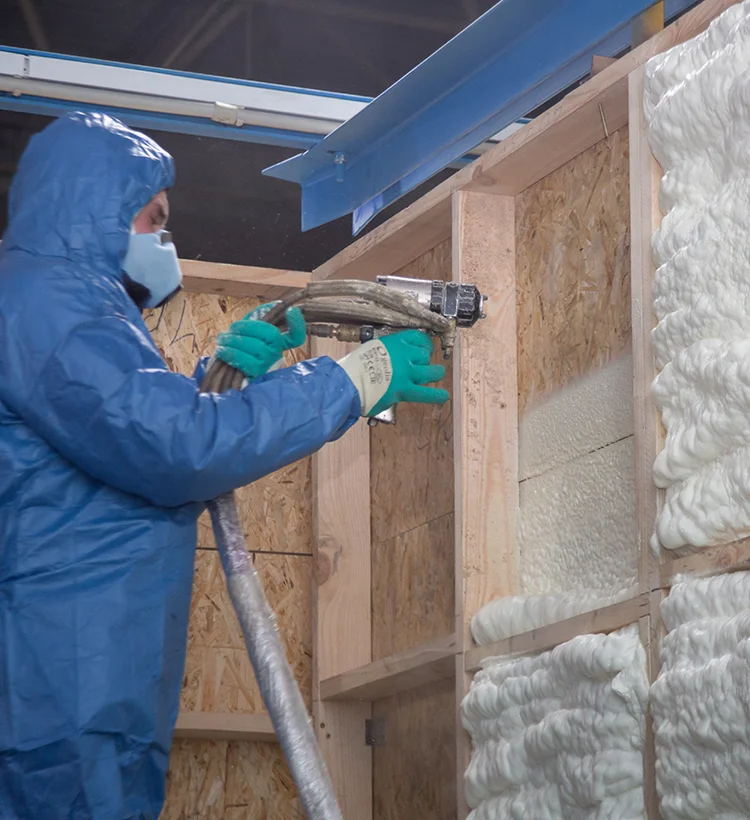 The premier insulation service
Leesburg VA,, is a town known for its historic downtown area, which features colonial-style architecture and a bustling main street filled with various shops, restaurants, and other businesses. The weather here can be unpredictable, with some days being sunny and warm and others being rainy or overcast. However, no matter what the weather is like, you can have a comfortable and energy-efficient home or business with the help of DMV Foam. We offer spray foam insulation services for a variety of areas in your home or business, including your attic, basement, crawlspace, and exterior walls. The insulation provides an effective barrier against air and moisture.
We understand the challenges that come with cold floors and walls, including comfort issues, higher energy costs, health and safety concerns, and even a decrease in property value. These problems can be frustrating and overwhelming. That's why we offer the best spray foam solutions to block all entry points for air and moisture. One of the benefits of spray foam is that it can reach areas that are hard to access, ensuring that all the crevices and cracks are properly insulated. Our team has been working with the residents of Leesburg for years, and we have enjoyed helping to transform homes and businesses into comfortable and energy-efficient spaces.
The team came out to provide us free estimate for an attic insulation. He was very nice and accommodated all our queries and discussed all our options. We were very impressed with their service. Great company to work with fair price and quality work. Thanks DMV team!
Hadwin Flowers
I was searching for home insulation contract near me and found them. DMV are the experts in the foam insulation industry. They make sure you have what is best for each project and guarantee a long-term value. We highly recommend their service.
Harley Geise
Thanks for the great service! They offered us a reasonable price and financing options. The job was done quicker than the scheduled time. We are very pleased with the service! We will definitely refer them to our friends and family!
Travis Collins
They were very responsive and very professional! These guys handled the job quickly. They assessed and provided solution cost less than our budget. Absolutely the highest quality insulator in DC!
Troy Sarratt
Worth it without a doubt! Pleased with their work, offered us cost-effective price. DMV is the highest quality insulator we have ever worked with. The whole experience with them was perfect from start to finish.
Barbara Stephens
We've been getting charged unusually high electric bills and decided to contact a foam insulation company to help us with our problems. Best decision ever! They did an absolutely amazing job! Our home is now energy efficient, and comfortable. Will recommend DMV to anyone who needs insulation service.
Pansy Crawford