Insulation Contractor Laurel Md
We distinguish ourselves from other insulation contractors in Laurel Md by providing excellent and cost-effective solutions. Given our experience in dealing with different scenarios, our experts are sharp-witted and capable of devising solutions to resolve issues.
Residential, Commercial, and Agricultural Spray Foam
When most people think about saving energy, they think about reducing the time they spend on electrical appliances. And while that's helpful, there is another solution; insulating your building with spray foam. The move allows you to save up to 45% of your energy costs. At DMV Foam, we continue to see the benefits of a properly insulated roof in Laurel, MD. This type of insulation has several benefits that make it a desirable option for homes and businesses. Listed below are some of the benefits of spray foam insulation.
For one, spray foam insulation in Laurel is an effective way to insulate your home or business. Spray foam insulation is one of the most effective ways to keep your home or business well-insulated. It can help you save money on your energy bills by keeping your space more comfortable all year-round. Secondly, it's a durable option. Spray foam insulation is also a very durable option. Once installed, it will last many years without needing to be replaced. This can save you money in the long run as well. Lastly, spray foam insulation is eco-friendly. These reasons make spray foam insulation one of the most popular insulation services on the market.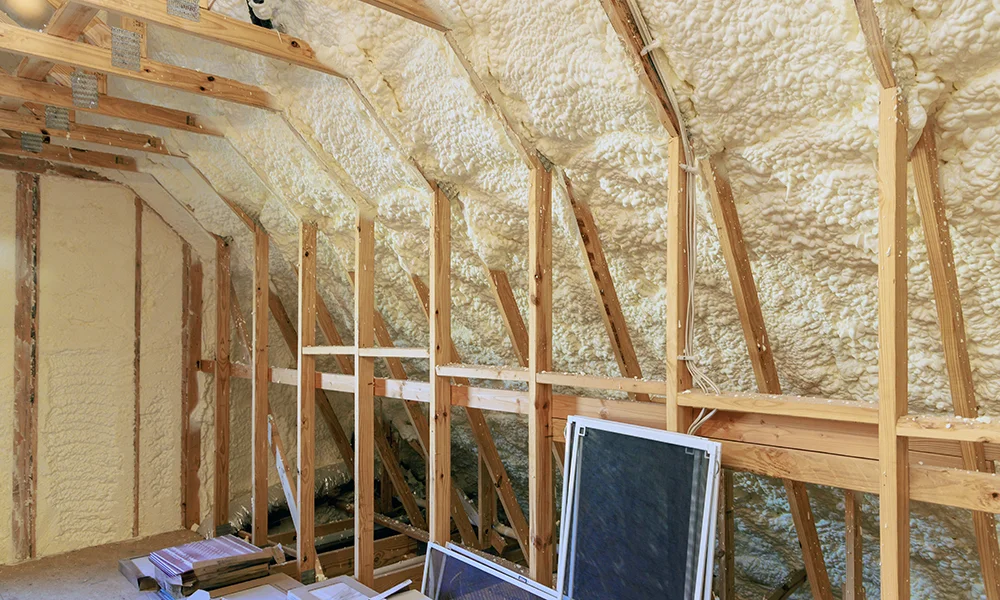 Services
We offer our service for various types of buildings and structures.
Commercial
We provide complete energy performance solution in any commercial design. Guaranteed to provide cost effective, efficient insulation to insulate interior cavities with flexible design.
Residential
Make your home feel more comfortable. Spray foam insulation allows your home heating and cooling units to work more efficiently. Get a reduction power costs as much at 35% without losing efficiency and comfort.
Agriculture
Saving agricultural business and operators for decades. Spray foam insulation protect your crops from damage, maintaining a sufficiently insulated building for your livestocks with less use of energy and fuel.
Garage Ceiling Insulation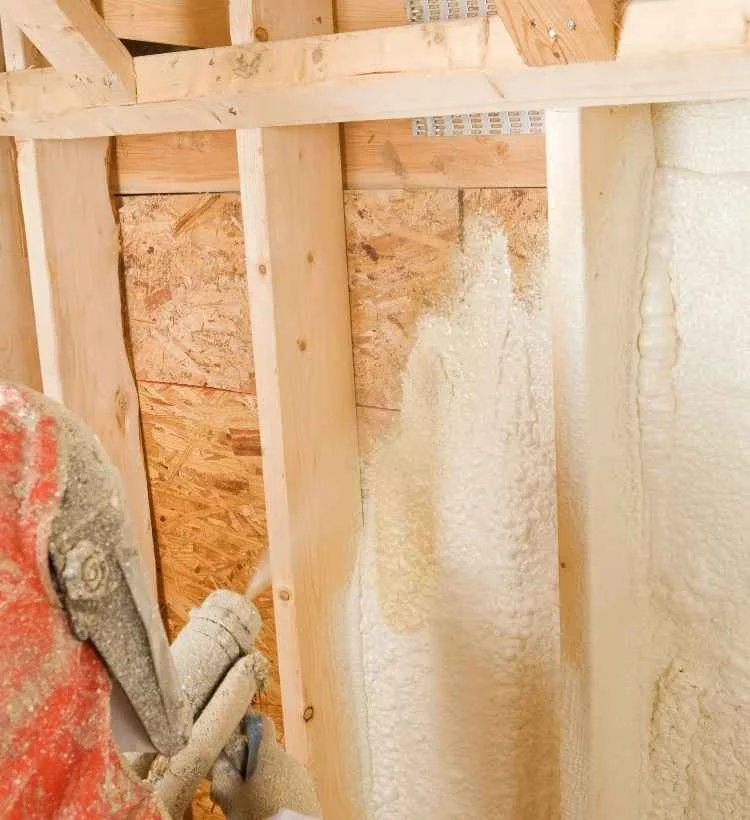 Crawl Space & Attic Insulation Laurel Md
At DMV Foam, we specialize in insulating homes, businesses and barns with spray foam anywhere at Manassas and Potomac. We also enjoy educating homeowners on the benefits of spray foam and the best practices to keep it in top condition. One of these is knowing the places in your house that need to be insulated. The ground joists are the primary point of insulation due to the area's role as air leakage and moisture barriers. It's the connection between the belt and the roof structure, which can result in air intrusion and moisture buildup. This can lead to the wood rotting, cold floors and floor degradation. Applying foam to the concrete and wood deals with all the penetration of electrical, HVAC systems, and water connections.
The third concern for insulation in the house is the flooring over cold spaces. For example, a bedroom on top of a garage. After that, basement walls. If you have a wood floored basement, then you need to look for spray foam to seal the joists. Spray foam will bond to the concrete, seal the cracks and stop the moisture. Next, your crawl space. This is an area where glass fiber and plastic are ineffective because it's typically wet in cold seasons. Attic Insulation in Laurel Md solves all the issues you've ever had with your crawlspace. It seals the entrances which bugs and mice use to get in, lock in the warmth, stop the air and moisture movement. As long as your crawlspace is high enough for us to get into, we'll get in there and deliver the best insulation job you've seen.
Residential Spray Foam Insulation Experts
At DMV Foam, it's our job to keep reminding you of the most important insulation statement: "The best way to save energy is by properly insulating your home." And while many installers won't reveal it, spray foam is more efficient and more environmentally friendly compared to the other methods. These are facts that we give our clients before embarking on any insulation job. Our goal is to ensure every home gets premium spray foam insulation services promptly and efficiently.
We understand all about your garage, basement, and attic air leakages. We also know your cold floor and walls are the reason you're here searching for the best residential spray foam insulation company in Laurel, MD. This is information we've gathered from our experiences solving insulation needs over the years. Our familiarity with Laurel's home and roof designs also helps us execute our job. Our services target all areas prone to experiencing air leakages, so we come prepared with all the equipment and material we need.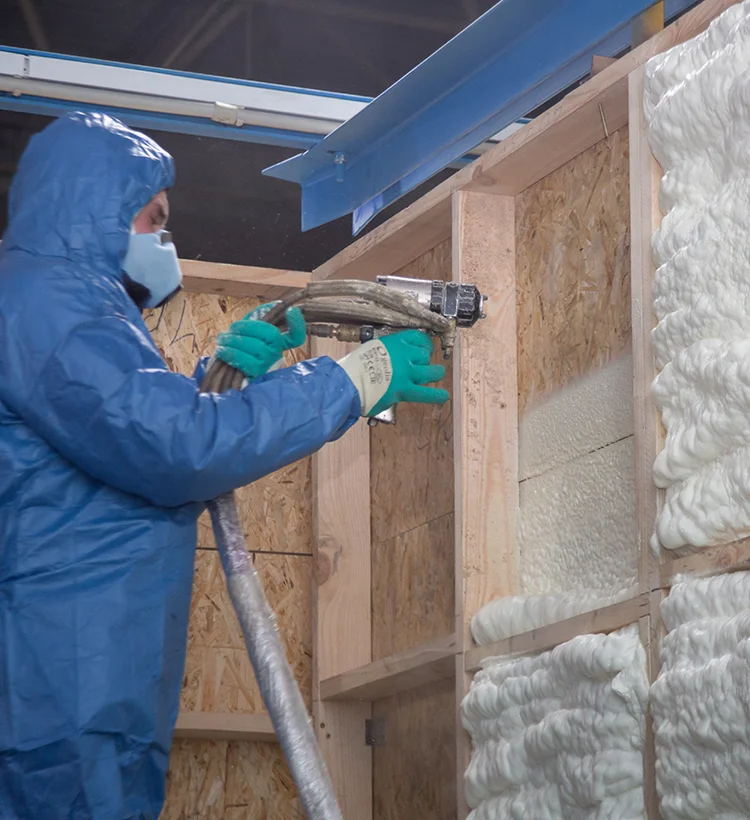 Complete Insulation Services You Can Trust
At DMV Foam, our exemplary work continues to give us a nationwide presence. Our customer support is excellent, with admirable on-call experience. We try to make everything super-easy for you. Right from the booking, we give you different options for setting appointments. We're available 24/7 to pick up your call, and you can also use our website booking services right at the bottom of this page. Once you book from our website, we connect you to one of our experts for a 15-minute call to collect all the information we need.
Our experts will answer all the questions you have on spray foam insulation. For example, is it better to apply spray foam in your attic rafters or your floor? Or where should you not use spray foam insulation? Well, worry not. These are questions that our experts are more than happy to answer. Additionally, our team has a combined experience of more than 40 years. Therefore, there is nothing we haven't seen or handled. Reach out to us, and get a lasting solution to the high energy expenses from all the high heating and cooling costs.
They sprayed my basement with closed cell last week and there's already a big difference. It used to be cold down there, but now it's nice and toasty. I'm glad I went with DMV Foam. Their work speaks to the vast knowledge and experience they have in the business. I highly recommend their services.
Nathan James
They sprayed my basement with closed cell last week and there's already a big difference. It used to be cold down there, but now it's nice and toasty. I'm glad I went with DMV Foam. Their work speaks to the vast knowledge and experience they have in the business. I highly recommend their services.
Nathan James
I wanted my older farmhouse renovated and at first, I didn't know any company to pick so I relied on Yelp reviews which led me to DMV Foam. I wasn't sure what kind of insulation would be best but they advised me to go with spray foam insulation. My farmhouse is now insulated and feels warmer already - better than I even thought it could! I'm so glad that I went with them, their work was amazing!
Randy Woodward
We just had spray foam insulation installed in our attic and we are very pleased with the results. The process was quick and easy and the finished product is top-notch. Our house is much warmer now, and we're already seeing the difference in our energy bills. We highly recommend their services to anyone looking for a high quality, eco-friendly insulation option.
Roland Wells