Spray Foam Insulation Chantilly Va
Our mission is to provide comfort and the perfect solution for your energy costs by offering spray foam insulation services that block all air spaces and dampness that occur.
The best commercial spray foam services
At DMV Foam, we're your local spray foam insulation company in Chantilly, VA. We continue to remind residents that spray foam insulation is not just a reserve for residential buildings - commercial settings can benefit from its sound-reducing capabilities as well. Noise can be a great distraction for employees in a commercial setting. Fortunately, that's something that spray foam insulation can solve. It makes the office space much quieter and cooler on hot days and warmer on cold days. The result is that you get to save on your energy costs which contribute up to 45% of the energy costs in an office and home setting. Moreover, it's easy to install, and it's definitely worth the investment.
Our prices are reasonable, and in the long term, the commercial insulation costs incurred are necessary for a greater reward. It cuts energy costs and creates a more comfortable work environment for employees, which can, in turn, lead to increased productivity. Our commercial insulation services extend to apartments, retail spaces, storage units, education centers, medical facilities, and fitness facilities. If you need help determining whether or not your building is suitable for spray foam insulation, our experts can help you make that decision. Book straight from our website and get a 15-minute consultation with one of our insulation experts. We'll give you all the details you need and an accurate estimate for the work.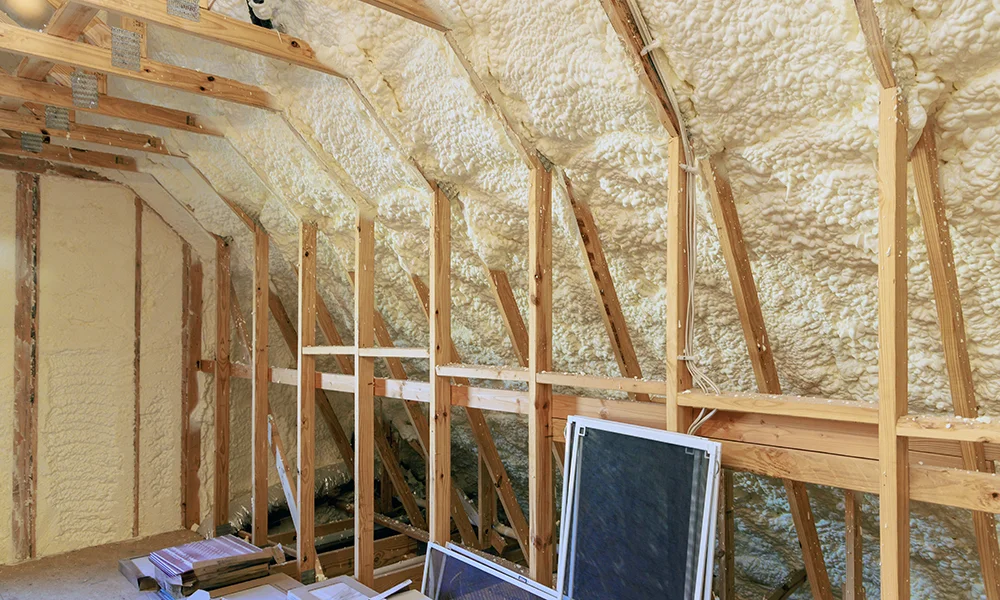 Services
We offer our service for various types of buildings and structures.

r
Commercial
We provide complete energy performance solution in any commercial design. Guaranteed to provide cost effective, efficient insulation to insulate interior cavities with flexible design.
Residential
Make your home feel more comfortable. Spray foam insulation allows your home heating and cooling units to work more efficiently. Get a reduction power costs as much at 35% without losing efficiency and comfort.
Agriculture
Saving agricultural business and operators for decades. Spray foam insulation protect your crops from damage, maintaining a sufficiently insulated building for your livestocks with less use of energy and fuel.
Garage Ceiling Insulation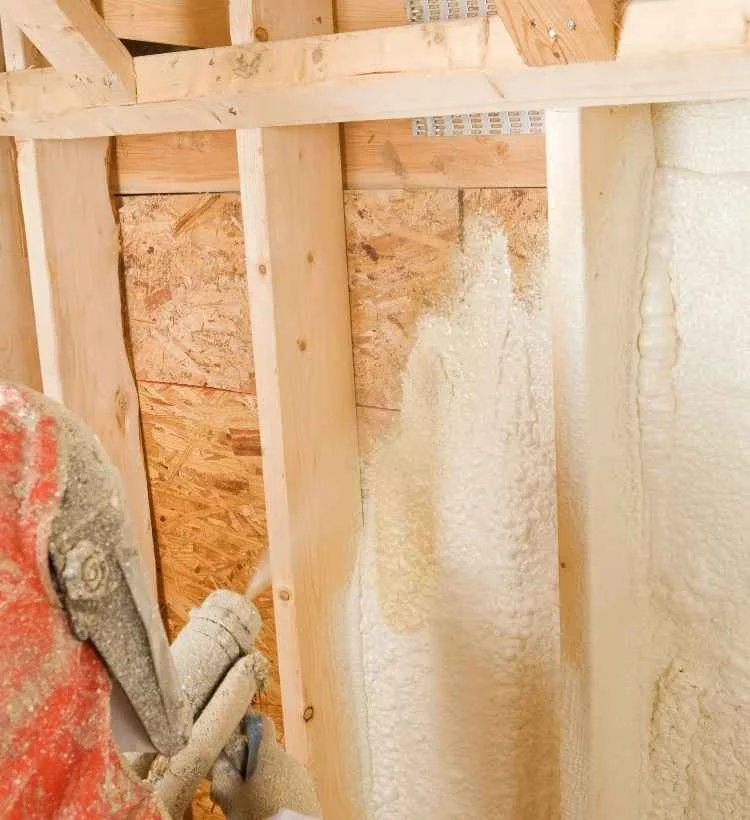 Why Choose DMV Foam
When you're looking for someone to install your insulation, you want someone who will do a good job and be communicative throughout the process. Here at DMV Foam, we have excellent communication. Our insulation installers are polite and pack the knowledge to answer all of your questions. We understand that getting your building insulated can be a big project. That's why we work with you every step of the way to make sure you're comfortable with the process. We want you to be happy with the results; that's why we listen to you. We serve many areas in dmv including Centreville Va and Oakton Va
Our secret to earning our customer's trust is honesty and transparency. We are clear right from the first consultation. We explain the different types of spray foam available, as well as their benefits and drawbacks. This way, our customers can make an informed decision about which type of spray foam is right for their home or business. We also offer a no-obligation quote so that our customers know exactly how much they'll spend before they commit to anything. Once we start work, we keep our customers updated every step of the way.
Your Efficient Spray Foam Insulation Company
If you're looking for an attic insulation in Chantilly Va that provides quality, timely services with minimal or no wastage, then you want DMV Foam. We pride ourselves on being one of the most efficient and effective insulation companies in the business. We'll send as many installers to your location as necessary to get the job done quickly and efficiently. Plus, our years of experience mean that we can provide top-quality services for your commercial, industrial, or residential needs. So if you're looking for a company that will get the job done right, on time, and with minimal waste, then look no further than DMV Foam.
However, as much as spray foam insulation is one of the popular insulation materials, you need to find the right insulation contractor. It's not uncommon to find cases of botched installations, especially from learners and inexperienced installers. These are mistakes we do not commit at DMV Foam. Our installers are skilled and understand all the areas prone to leakages, from the ground joists, crawl space, and floors above cold rooms. Therefore, call us today for spray foam insulation services that completely block any air leakages in your home, residential, or commercial building.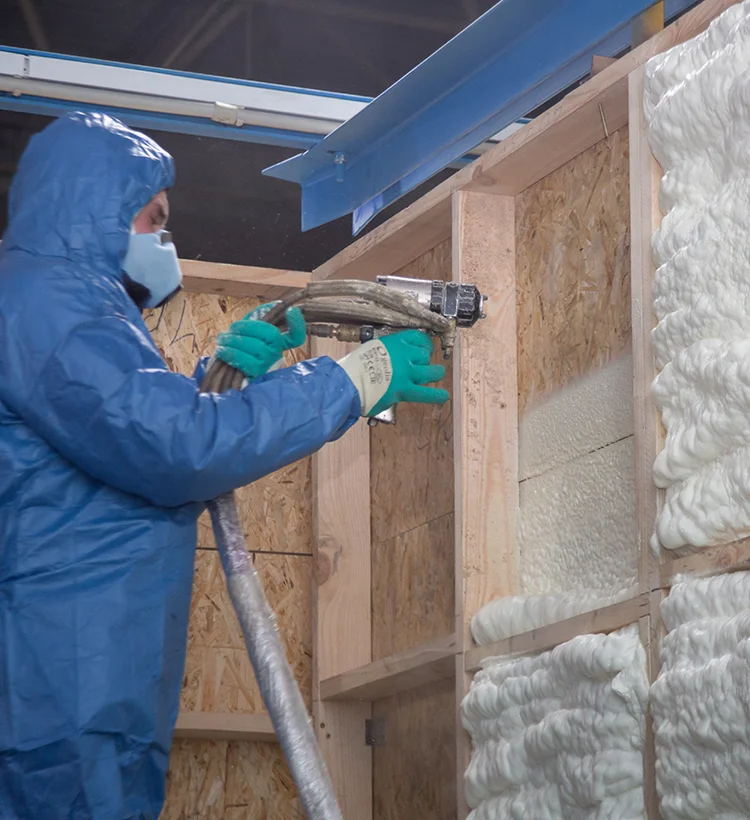 Make your space comfortable with DMV Foam
At DMV Foam, we are proud to be the go-to provider for all of your spray foam insulation services. Our team is dedicated to delivering customer-centered solutions that will last for many years to come. We have immense experience in the industry, having served the residents of Chantilly, VA, for over 15 years. During this period, we have learned every possible way to make your space comfortable. We have also improved our services by constantly engaging our clients and using the latest products on the market, which is exactly what you want from your insulation expert.
We're super clean! We don't leave any dirt on your property because we have meticulous overspray control techniques. Our careful spraying procedure entails covering all of your valuables and blocking or taking them out to ensure the spray doesn't get on them. After that, we ensure there's proper ventilation in the building to give the spray some direction to go and guide it. We don't forget to mask up, as our experts understand that safety and protection are top priorities.
The team came out to provide us free estimate for an attic insulation. He was very nice and accommodated all our queries and discussed all our options. We were very impressed with their service. Great company to work with fair price and quality work. Thanks DMV team!
Hadwin Flowers
I was searching for home insulation contract near me and found them. DMV are the experts in the foam insulation industry. They make sure you have what is best for each project and guarantee a long-term value. We highly recommend their service.
Harley Geise
Thanks for the great service! They offered us a reasonable price and financing options. The job was done quicker than the scheduled time. We are very pleased with the service! We will definitely refer them to our friends and family!
Travis Collins
They were very responsive and very professional! These guys handled the job quickly. They assessed and provided solution cost less than our budget. Absolutely the highest quality insulator in DC!
Troy Sarratt
Worth it without a doubt! Pleased with their work, offered us cost-effective price. DMV is the highest quality insulator we have ever worked with. The whole experience with them was perfect from start to finish.
Barbara Stephens
We've been getting charged unusually high electric bills and decided to contact a foam insulation company to help us with our problems. Best decision ever! They did an absolutely amazing job! Our home is now energy efficient, and comfortable. Will recommend DMV to anyone who needs insulation service.
Pansy Crawford