Insulation Contractor Alexandria Va
We distinguish ourselves from other insulation contractors in Alexandria Va by providing excellent and cost-effective solutions. Given our experience in dealing with different scenarios, our experts are sharp-witted and capable of devising solutions to resolve issues.
Residential, Commercial, and Agricultural Spray Foam
DMV Foam is a Spray Foam insulation installer, that serves residential, commercial, and agricultural spray foam insulation projects. We are committed to providing affordable, healthy, and energy-efficient insulation solutions that are environmentally friendly. Our company extensively provides the best spray foam insulation in Alexandria Va has to offer. We have been in this industry for over sixteen years and are very keen on customer satisfaction.
If you are looking for insulation in Alexandria Va, you want to find one with the expertise and aptitude to address your problems. All our professionals have a license which is very important. Unlike other "insulation companies near me," we offer employee insurance to ensure you have damage protection, we offer our technicians labor safety, and we are licensed, insured, and well-versed in spray foam insulation.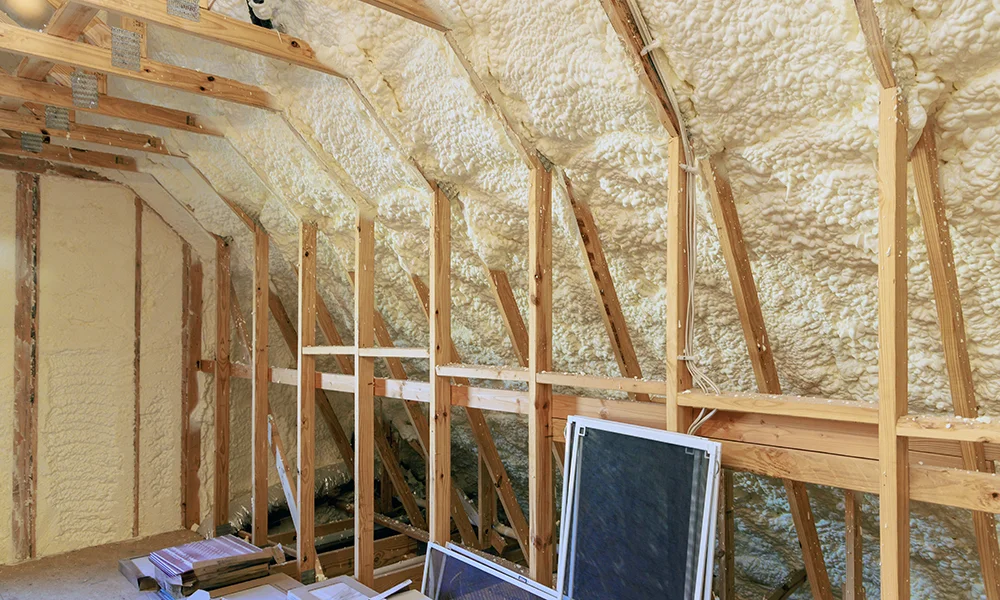 Services
We offer our service for various types of buildings and structures.
Commercial
We provide complete energy performance solution in any commercial design. Guaranteed to provide cost effective, efficient insulation to insulate interior cavities with flexible design.
Residential
Make your home feel more comfortable. Spray foam insulation allows your home heating and cooling units to work more efficiently. Get a reduction power costs as much at 35% without losing efficiency and comfort.
Agriculture
Saving agricultural business and operators for decades. Spray foam insulation protect your crops from damage, maintaining a sufficiently insulated building for your livestocks with less use of energy and fuel.
Garage Ceiling Insulation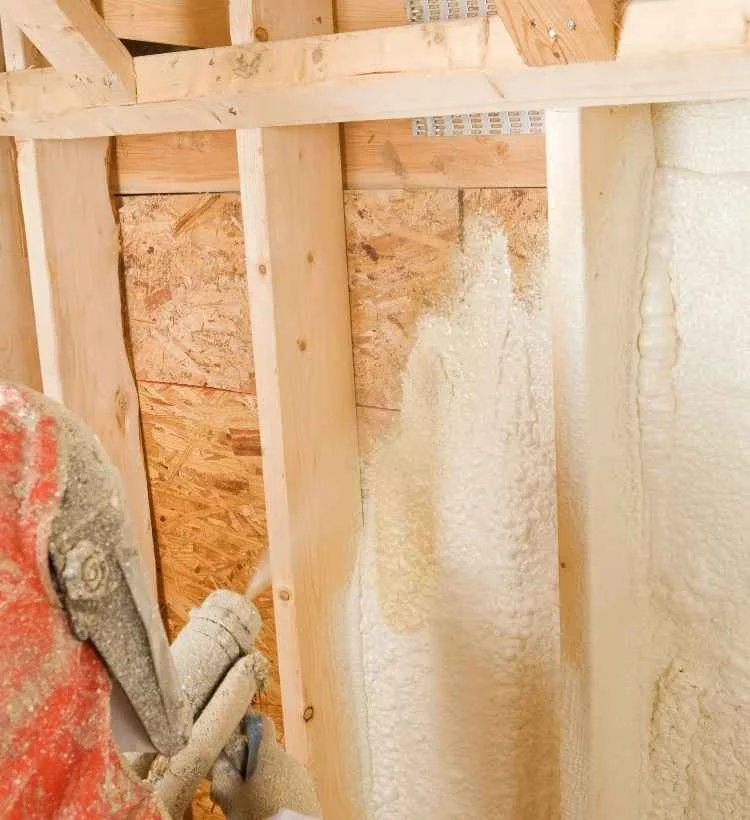 Attic Insulation Alexandria Va
If you have a commercial, agricultural, or residential building, it could greatly benefit from the advantages that come with spray foam insulation. We can apply quality insulation, with our spray foam insulation services, to multiple areas of your building, including roofs, attics, basements, walls, crawl spaces, and so much more. During application, the chemicals used in spray foam expand to fill the space you are insulating, making it perfect for use in every part of your building.
DMV Foam is the local insulation contractor working in Annandale va, Fairfax Va and other areas of DMV that can help, advise, plan, and safely execute your spray foam insulation project. Our expert team has been trained to install high-quality spray foam insulation. As a result, we can successfully take on any project regardless of the size. We also offer free quotes to our customers and educate them on types of spray foam insulations while also recommending the best type of insulation for each client based on their needs.
Alexandria Spray Foam Insulation
The town of Alexandria has a cosmopolitan feel, and this gem has been named one of the best small cities in the U.S. Here, the summers are hot and muggy, the winters are very cold and snowy, and it is usually partly cloudy all year round with temperature ranging from 29°F to 88°F and is rarely below 17°F or above 96°F. With spray foam insulation, you can get a more energy-efficient and comfortable home while saving on heating and cooling costs all year round.
Spray foam insulation is made from polyurethane foam and comes in open and closed cell varieties that vary in density. Open and closed cell insulation offer superior insulation and insulating qualities, financial savings, healthy, and efficient buildings compared to other installations such as fiberglass and cellulose. It also outperforms all the other types of insulation by a large margin because its long-term benefits outweigh the initial installation cost.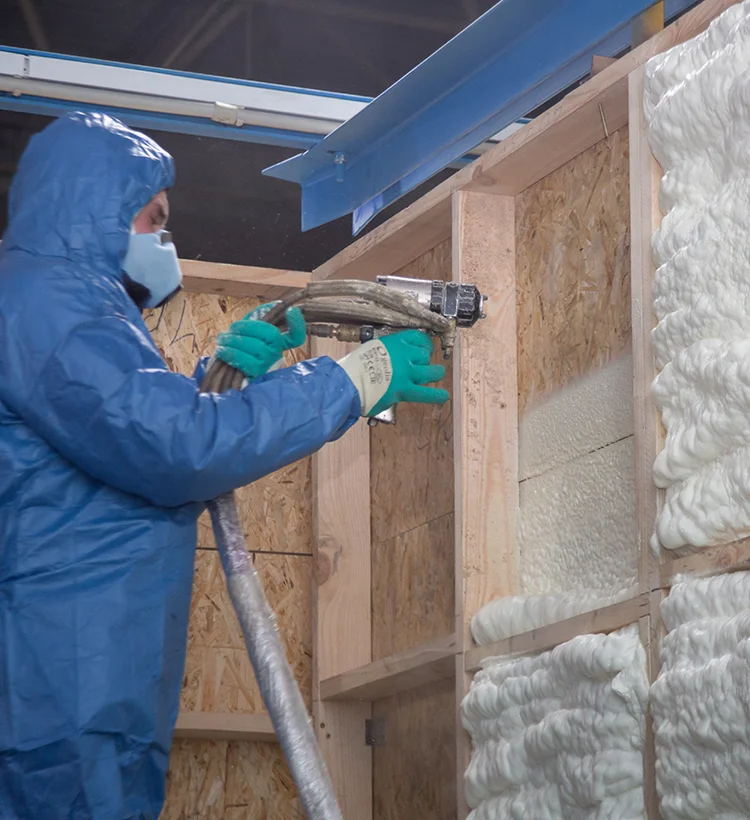 Complete Insulation Services You Can Trust
Almost immediately after installation, you will be able to notice a gradual drop in energy bills and the cost of repair and maintenance. When your home or building becomes too hot or cold and unbearable, insulation will help. Suppose you are also dealing with annoyances such as mold growth, insect manifestation, poor condensation, freezing pipes, a lot of noise from outside, and a lot of allergies, dust, and pollutants in your home. In that case, you should start to consider spray foam insulation seriously.
You will not just get a free quote whenever you call DMV Foam for an estimate. We will take the time to educate you and explain in detail what we are going to do, how we will do it, and how we will improve your home, commercial and agricultural building. At the end of the project, every customer is always fully satisfied with the service that they refer us to friends and family members without hesitation. So, if you want spray foam insulation in Alexandria Va., call us today.
The team came out to provide us free estimate for an attic insulation. He was very nice and accommodated all our queries and discussed all our options. We were very impressed with their service. Great company to work with fair price and quality work. Thanks DMV team!
Hadwin Flowers
I was searching for home insulation contract near me and found them. DMV are the experts in the foam insulation industry. They make sure you have what is best for each project and guarantee a long-term value. We highly recommend their service.
Harley Geise
Thanks for the great service! They offered us a reasonable price and financing options. The job was done quicker than the scheduled time. We are very pleased with the service! We will definitely refer them to our friends and family!
Travis Collins
They were very responsive and very professional! These guys handled the job quickly. They assessed and provided solution cost less than our budget. Absolutely the highest quality insulator in DC!
Troy Sarratt
Worth it without a doubt! Pleased with their work, offered us cost-effective price. DMV is the highest quality insulator we have ever worked with. The whole experience with them was perfect from start to finish.
Barbara Stephens
We've been getting charged unusually high electric bills and decided to contact a foam insulation company to help us with our problems. Best decision ever! They did an absolutely amazing job! Our home is now energy efficient, and comfortable. Will recommend DMV to anyone who needs insulation service.
Pansy Crawford